Bounty of INR 11 Lakhs has been put on the head of JNSU President by the Poorvanchal Sena. A little known political outfit from Uttar Pradesh put posters in Delhi claiming that they would give INR 11 Lakhs for the head of JNSU President Kanhaiya Kumar. The adamant Poorvanchal Sena said that even though they have the faith in Judiciary but they seek for speedier justice. In a statement given, the Poorvanchal Sena refused this action as a Publicity Gimmick and said that they are hurt by the Anti National slogans by Kanhaiya Kumar. In blunt statements, they said we want him dead and hence the announcement has been made. Sena Chief Adarsh Sharma made this outrageous comment of Kanhaiya Kumar as reported by The Times of India. (Read – Sedition Charges against Rahul Gandhi, Arvind Kejriwal and others)
Bounty of INR 11 Lakhs – Actions
Interestingly, Delhi Police has not arrested anyone for the outrageous posters and comments so far. However, police questioned Adarsh Sharma and few others from the Poorvanchal Sena for the same, but no arrest has been made so far. Delhi Police Spokesperson, Taj Hassan, said that they are investigating the matter and relevant sections of the laws will be added. However, the legal experts claim that this is fairly easy decision for the police to invoke law for conspiracy and attempt to murder.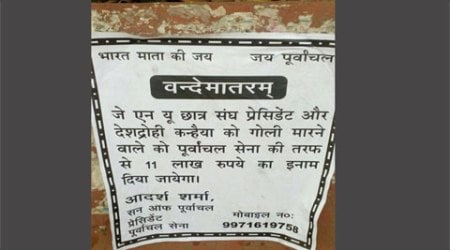 Bounty of INR 11 Lakhs – Anti National Debate
However, amid all these, the Anti National debate is not reaching any end. Kanhaiya Kumar came out of Jail in bail from 6 months after he was arrested for sedition on February 9 for making Anti-India slogans. However, in court Delhi Police did not give any proof against him so far. Kanhaiya Kumar gave a speech in JNU after getting the Bail from Delhi High Court and since then he started trending on Social Media once again. However, people never refrained from making comments for and against him. A Youth BJP leader said that tongue of Kanhaiya Kumar should be cut off and he announced INR 5 Lakhs Prize for the same as well. However, BJP expelled him later for six years saying he insulted RSS, BJP, Prime Minister Narendra Modi and the Nation and that is unacceptable, and he has been expelled.
Ever since the JNU issue has racked up, people have made comments and interestingly lawmakers have made more irresponsible comments on the entire fiasco. However, Prime Minister Narendra Modi is yet to make a comment in respect to all these.